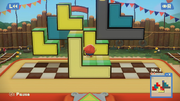 Mysterious Pushmo are a type of Pushmo featured in Pushmo World.
Typically, blocks of the same color in a Mysterious Pushmo are Linked Blocks, blocks that are pulled and pushed together, even when not connected. Furthermore, some Mysterious Pushmo feature Yin-Yang Blocks, black and white blocks that have the property of pushing in one color when the other is pulled out, and visa versa. Finally, certain blocks can only be pulled out for a certain length of time.
This page is a stub.
You can help by expanding it.
Ad blocker interference detected!
Wikia is a free-to-use site that makes money from advertising. We have a modified experience for viewers using ad blockers

Wikia is not accessible if you've made further modifications. Remove the custom ad blocker rule(s) and the page will load as expected.